Summary of the Elijah Cup Program
Each week at Sunday Mass the celebrant will use the Elijah Cup as the chalice or a precious blood cup. After purifying the Elijah Cup at the end of Communion, he calls a family, individual, or couple forward to receive the Elijah Cup. They receive a blessing and take the cup home, putting it in a place of honor.
Each day for a week, during prayer time (morning, bedtime or at meals), they commit to using the Cup as a focal point for pray with the specific intention of an increase and perseverance of vocations, praying especially for those among their family and parish community. A prayer journal also travels with the Elijah Cup. Each week the family, individual, or couple that has the cup has the opportunity to enter a reflection, prayer, or scripture verse. Over time, this diary becomes a spiritual journal for the parish.
The following Sunday they return the Elijah Cup prior to the start of Mass, allowing time for the Cup to be prepared for use at that Mass and then presented to other recipients.
Praying for vocations is the most powerful way to support vocations. A vocation is a specific call from the Holy Spirit, whether marriage, priesthood or religious life, where we live out our call to holiness in a particular way. When we pray for vocations, we lift up to our Father those men and women who he is calling in a very special way. It is our hope that the fruit of this program will be the raising up of a culture in our Archdiocese that fervently prays for and supports vocations.
How to start the Program in your Parish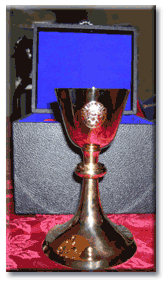 ---
The Elijah Cup is effective and rewarding for all involved! It offers a "hands on" approach, easy to understand where participants see and experience results in the short term.
The program is straight forward and can be very effective: a consecrated chalice (Cup) is provided each week to a parish member to be used as a focus for prayer. The chalice is returned the following week and given to another parish member during the Sunday Mass; this initially starts with one Mass and gradually expands based on the parish and pastor experience, to other Masses, sometimes to more than one cup per Mass. There is no special place that our various parishes in the Archdiocese purchase their Cups. The Pastors normally go to the web sites on which they have purchased other chalices.
A volunteer(s) within the Parish needs to be the "coordinator(s)"and needs to be identified. Ideally after the initial kickoff and regular support from the pulpit, the program will gain its own momentum and identity, eventually leading to a "Ministry" within the parish. The program takes some effort as with any other Ministry. The key to success is pastor support and the strength of the volunteers, especially the lead coordinator.
For more information on the Elijah Cup Program, please download this PDF document