Learn More About Vocations In Atlanta
The goal of the Serra Atlanta organization is to foster and promote vocations in the Archdiocese of Atlanta. We ask that you regularly join us in praying for our current and future priests by praying this prayer:
Prayer For Our Priests
Oh God, who wills not the death of a sinner, but rather that he be converted and live, grant, we beseech Thee, through the intercession of Blessed Junipero Serra and all the saints, an increase in laborers for Your Church – fellow laborers with Christ to spend themselves for souls, through the same Jesus Christ, Your Son, Who lives and reigns with You in the Unity of the Holy Spirit, one God, forever and ever. Amen.
There are many other ways you can help, and plenty of sources for additional information about vocations in Atlanta including:
Vocations Test
Frequently Asked Questions (FAQ)
President's Letter
For more information about vocations in Atlanta, please contact Fr. Tim Hepburn, Vocations Director, at:
Rev. Tim Hepburn
Vocations Director
Archdiocese of Atlanta
2401 Lake Park Dr. S.E.
Smyrna, GA 30080
404-920-7460
---
Ongoing Ministry – Elijah Cup Program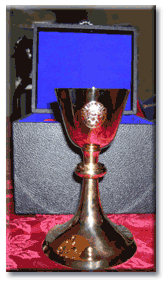 Help encourage young men and women to answer the Call and promote vocations in your parish. Involve your entire parish at Mass. Watch the Holy Spirit work.
Serra Atlanta has designed an Elijah Cup which is being used now in certain parishes. If you would like information about how you can acquire one of these Elijah Cups, please click here. Perhaps you could ask your Men's Club or Women's Club, or possibly your Life Teen Group to underwrite the cost and present it as it as a gift to the people of the parish. This is not a fundraiser. It is merely an attempt to encourage our parishes to take part in this miraculous program. What a wonderful gift this would be for your parishioners!
Please prayerfully consider approaching your parish clubs and associations and ask them to sponsor one of these Elijah Cups.
For more information about the Elijah Cup program and how to start the prayer in your parish, please visit our Elijah Cup page.